In 1855 the Legislature appointed a group of commissioners to select and purchase a tract of land for "the Village of Manning" in the newly formed Clarendon County.The Plat of Manning was prepared by Captain Joseph Copely Burgess and filed in Sumter County Courthouse 1856. Captain Burgess donated land for the courthouse and jail in Manning. Manning became the county seat for Clarendon County.
The city is named for John Laurence Manning (1816-1889) who was elected to both chambers in the General Assembly and served as governor 1852-1854. George Allen Huggins (1831-1887) was the first intendant (mayor). A Certificate of Incorporation was issued to the city of Manning on May 13, 1976 and the city currently operates under a Council form of government.
Manning's first library, the Hannah Levi Memorial Library, was completed in 1910. It eventually became known as the Manning Library and was the only public library in the county. It became a county library in 1976 and continued to operate until the opening of the Harvin Clarendon County Library in 1984. The building now houses the Clarendon County Archives and History Center.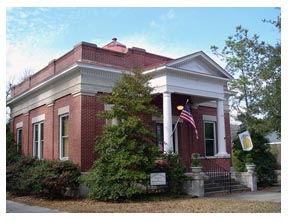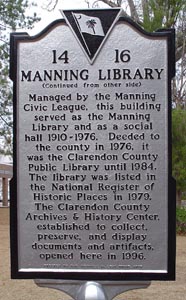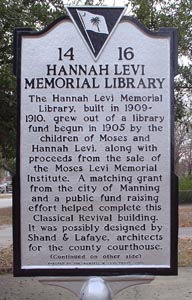 A large portion of the original town, including the courthouse, was destroyed in 1865 during what is known as "Potter's Raid". Manning was later struck by two further tragedies: a downtown fire in 1895 and a tornado in 1915. Railroads, abundant timber, and diverse agriculture allowed Manning to flourish during the late nineteenth century and into the twentieth century. In 1933, Highway 4 was changed to U.S. 301, and thanks in part to the efforts of Manning resident W. P. Legg, Manning and Clarendon County became a preferred route of the Washington to Florida motorist. Manning remains a popular attraction today for motorists traveling the I-95 corridor and is rapidly becoming one of the favorite locations for retirees looking for various recreational activities and mild climates. Much more can be learned of Manning's rich history with a visit to the Clarendon County Archives and History Center located on North Brooks Street in Manning, SC.